Giddings & Lewis 7" Floor Mill Retrofit
This is a Centroid M400 retrofit to a large horizontal boring mill from around 1968. The retrofit was completed in July 2008.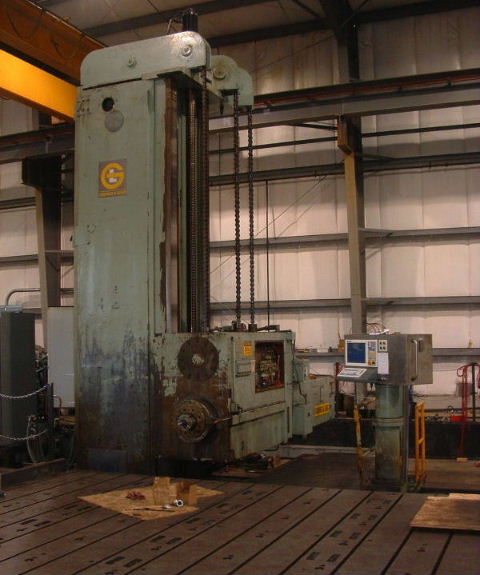 The machine is a 75HP traveling-column floor mill with 30' X axis travel, 10' Y, and 5' Z.
As originally built, the machine evidently used hydraulic motors. In the early 1980's it was updated with an Allen-Bradley 7000-series control and Inland DC servos.
The spindle bar diameter is 7"; the surrounding quill can be advanced independently for added support when part clearance allows.
Spindle speed is controlled through a 32-speed transmission, with hydraulic shifters. The Centroid control shifts to the best range for the programmed S code at each spindle start.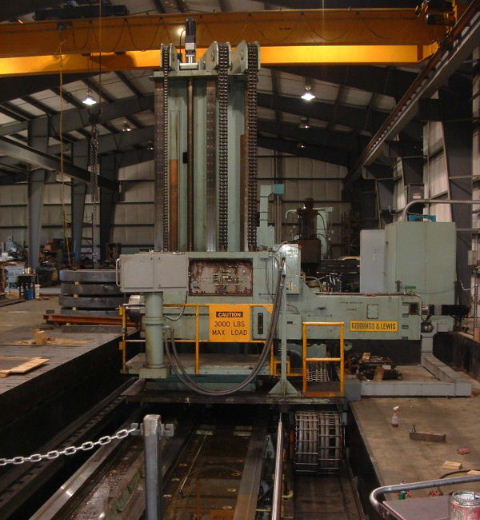 The operator platform can be raised and lowered for access to tall workpieces.
The control console rides with the operator platform.
Headstock (Y axis) counterbalance is provided with large hydraulic cylinders inside the column, coupled to the visible roller chains. The headstock weighs approximately 42,000 lbs. The entire moving column and base assembly (X axis) weighs approximately 100,000 lbs.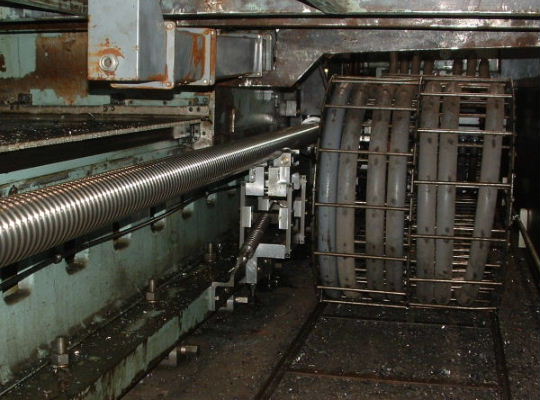 The X axis drive train previously used a rack and pinion drive with two opposed servo motors. This caused ongoing maintenance and performance problems.
For the 2008 retrofit, the customer installed a ballscrew drive on the back of the column base. He designed and built the bearing supports, ballnut support, and fold-away intermediate screw supports.
The column is now driven by a single 7.5kW Yaskawa AC servo motor.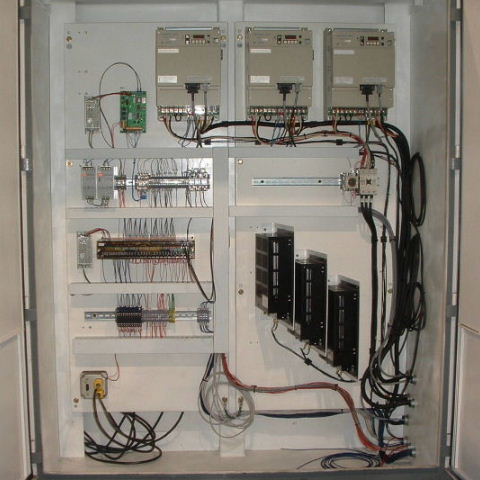 This is the new control cabinet, containing the servo drives, drive interface, PLC unit, and supporting components.
The control cabinet rides on the column base, on the opposite side of the column from the headstock and operator platform.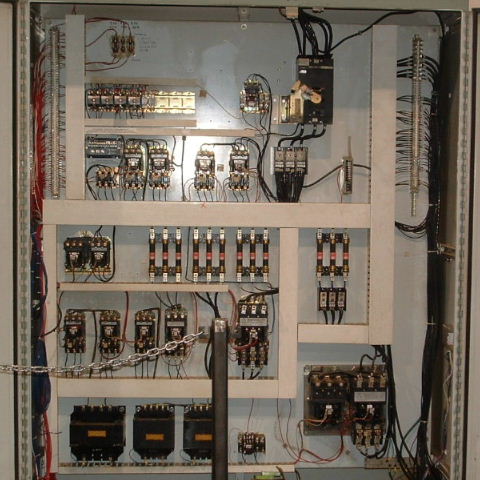 This is the magnetics cabinet, containing 480VAC power distribution, motor starters and control transformers. I was able to keep most of it unchanged from the 1983 retrofit, other than eliminating about half of the control relays.
The magnetics cabinet is stationary, adjacent to the machine pit.

New machine tools with capacity like this do not come cheap. This machine was purchased for little more than scrap value. The customer invested a lot of effort and a modest amount of money to install, refurbish and update it. He now has a very capable and productive machine which is drawing work from across the country.
Copyright © 2009 Marc Leonard
Last updated 18-Oct-2009 MBL