Berthiez BM160 Vertical Turret Lathe Retrofit
This is a Centroid T400 retrofit to a 60" vertical turret lathe from around 1971. The retrofit was completed in October 2009.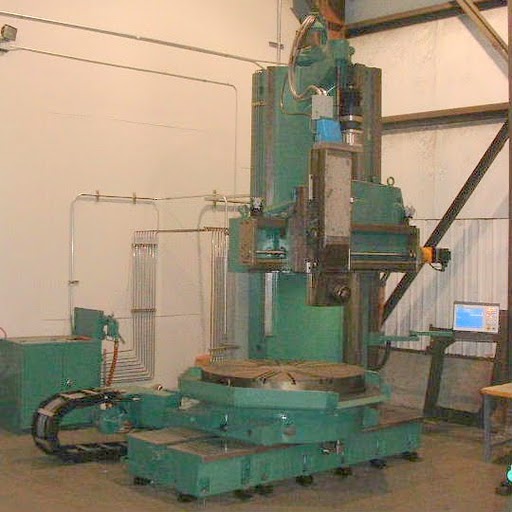 The machine is a 75HP vertical turret lathe with a 60" table.
The table base can slide out to increase the available swing. The new owner had the machine completely rebuilt, and in the process extended the bed to allow swings up to 13'.
The machine was originally manually controlled, with all axis feeds geared off of the main motor via splined shafts and feedboxes.
In the rebuild and retrofit, the customer had ballscrews and CNC motor mounts added to the X and Z axes. The side head was eliminated, leaving only the ram and carriage on the overarm.
We installed a new 75HP variable-frequency AC spindle drive and motor, powering the table through a two-speed hydraulically-shifted gearbox.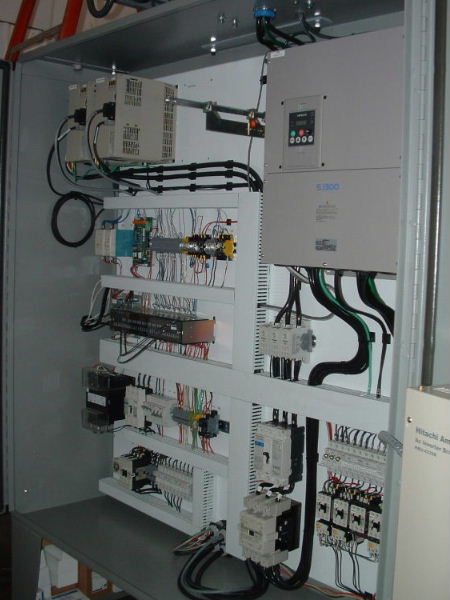 This is the new control cabinet, containing the servo drives, spindle drive, PLC unit, magnetics and supporting components. It is attached to the back of the machine column, reducing the cable and conduit runs.

Copyright © 2009 Marc Leonard
Last updated 30-Dec-2009 MBL